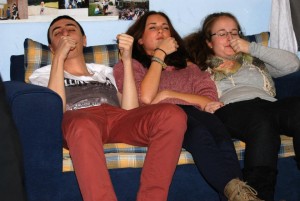 Looking For Unusual Ideas For a Birthday Party?
If you are looking for unusual birthday party ideas for an 18th, 21st, 30th, 40th, 50th birthday or any other special occasion, even retirement party ideas, then why not book a comedy stage hypnotist show?
Hypnotism always goes down well and leaves everyone talking.
It will make your birthday party truly memorable!
It is a great focal point for the party!
It gets everyone at the party mixing and mingling!
It is a suitable entertainment for all ages and will not offend anyone!
It will leave everyone talking about your birthday event for months and months!
Your birthday is going to be a special day for you. You are looking for quality birthday party ideas, You want it to be memorable and stress free, that is why it is so important to book professional, flexible, entertainment for your party.
You need someone who is experienced, someone who will get on with things and use his own initiative if necessary. Adam Night has been a full time professional stage hypnotist for over twenty five years,  he has performed at many birthday parties big and small. You can trust that he knows just how to make your special party memorable for all the RIGHT reasons.
Don't leave the booking of your party entertainment until the last minute, if you want the quality you deserve, remember so too do other people. The show is sold on a first come first served basis.