POSTERS
Posters will be sent to support most bookings, extras are available upon request or you can download an image below.
Please right click the image, select 'save picture as' save it to somewhere on your computer, then you can open it up and print it 'as is' or open it in an editing programme and add your own text.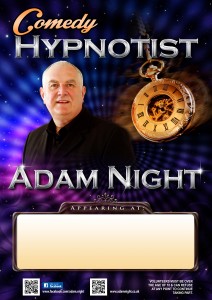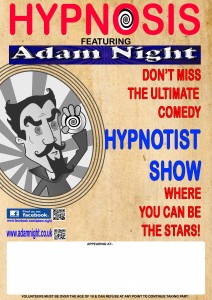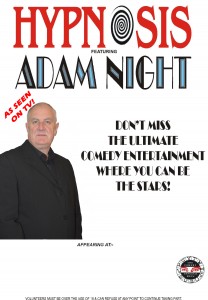 How to promote a show
Promotion is King to having a great Hypnotist show night.
Anything you can do to get more people through the door is good for you and the hypnotist.
Publicise where ever possible.
Get posters up in prominent positions
Get adverts in local what's on listings
Consider flyers on the bar or delivered door to door. A good source for cheap printing (even FREE!) also useful for making your own tickets is www.vistaprint.co.uk .
Use social media like Facebook to spread the word and most importantly ask everyone to share your post, so the message spreads. (tag me into your posts and I will share it on my timeline too)
Websites – put the event on your website or if you don't have one, get one!
Adverts in local shops, like newsagents, are usually very cheap and get lots of local passing trade.
Newspapers – most have a what's on section and are reasonable to take paid adverts in, but plan ahead.
Build a list -Put out your own sign-in sheet at your shows and events to get people's email addresses. A good email list is a very important thing in show marketing. Build yours any way you can. But don't send more than a couple messages a month. A very useful program to help you with this is the free version of Mailchimp available at www.mailchimp.com
If this is a fundraising event for a charity or organisation, Gather a committee, or have the entire membership sell tickets to their friends, family, co-workers, neighbours etc. This way there will be little or no advertising costs!
Use your current show to market your next show – plan in advance and if you have people in who are having fun, tell them about what is coming up soon, give them leaflets, even try and sell tickets there and then whilst they are in the right mood.
DONT'S
Don't make this a surprise event for your attendees, the show works best when everyone knows what is about to happen and has chance to egg their friends on and get a bit of "I will if you will" atmosphere going.
Don't book a comedy hypnosis show if your venue is already struggling, you need a good customer base to maximize the potential number of people who are going to attend. Avoid the pain of having to pay out when no one shows up.